Come worship with us!!
165 years old and still going strong!!
Welcome!
We are so glad you found us! It is our sincere desire at First Baptist to serve the Springfield community by uplifting Jesus as the one and only Lord of life!
Our prayer for all believers is that you will be blessed and strengthened in the Spirit, Grace and Power of the Lord; that through Him you will find a life of abundant peace, spontaneous joy, and unending passion.
First Baptist is a growing fellowship of Spirit filled believers coming together to declare the
awesome glory of the Lord
and to celebrate Jesus as King.
We study the Word, practice what we learn and in the process grow together. Visitors are always welcome!
We hope that you will come join with us in humble praise and joyous celebration of the risen Lord!
For Full schedule of Worship times click here
->
SERVICES
MEN, BEGIN 2015 WITH JOHN 4:23!
Session Leaders: Pastors/Authors Daniel Yielding from Alabama & Atterberry,iL.
Mike Henderson, Ben Manley, Bernie Lutchman, Doc Powell and more.
COST IS ONLY $20 (includes Friday night full dinner, breakfast, entire retreat & materials)
REGISTRATION ALREADY IN PROGRESS!!! MANY SIGNING UP ALREADY
OVERNIGHT CABIN BUNKS AVAILABLE FOR LESS THAN $10 PER MAN (ALL AMENITIES) Call 217-414-2435

Weds Feb 4th! Here at First Baptist Church
"One Generation Away" The Erosion of Religious Liberty! A Live Simulcast Event
Come join us for a free simulcast beginning at 6:00 pm and ending at 8:00 pm.
A powerful documentary on the loss of religious liberty in our generation and how we can win it back. The film features the stories of modern-day heroes—bakers, florists, photographers, and t-shirt printers—who are being forced to endorse the government's effort to redefine marriage. This challenging and encouraging movie takes its title from a famous passage of a speech in 1961 by Ronald Reagan:
But freedom is never more than one generation away from extinction. We didn't pass it on to our children in the bloodstream. The only way they can inherit the freedom we have known is if we fight for it, protect it, defend it and then hand it to them with the well thought lessons of how they in their lifetime must do the same. And if you and I don't do this, then you and I may well spend our sunset years telling our children and our children's children what it once was like in America when men were free.
In Concert!
Saturday February 7th at 7:00 pm the gospel group "

Solid Rock

"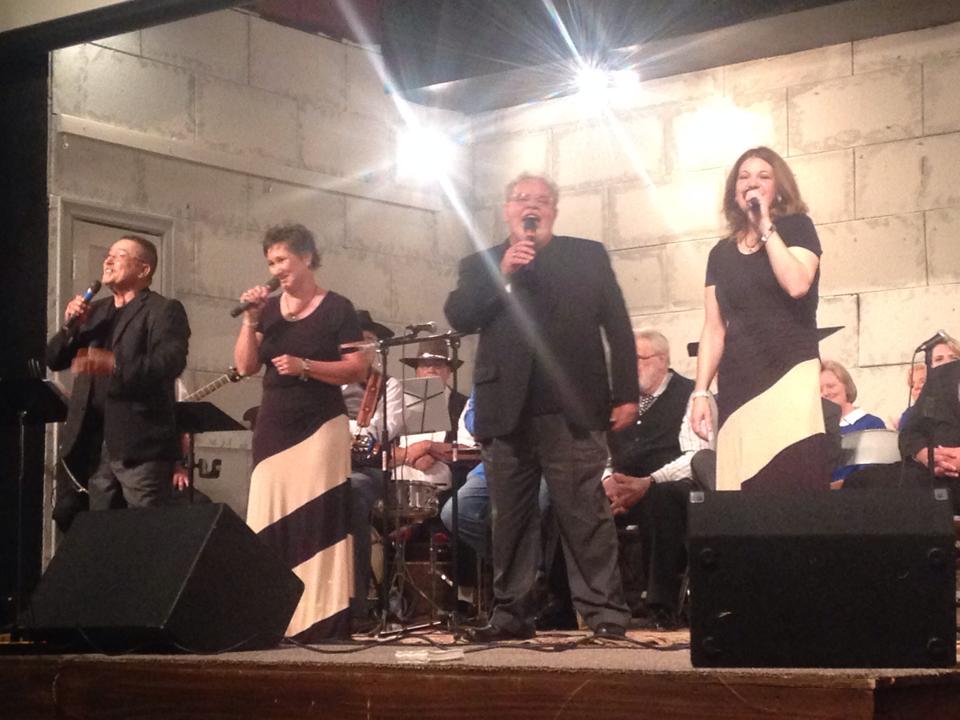 Solid Rock Music Ministries is a southern gospel group from central Illinois. The group consist of 4 members, Don Dennis – Jill Dennis from Elkhart Illinois , Randy Hodgson from Springfield Illinois and Deanna Elliff from Winchester Illinois . We love serving the Lord, and singing praises to Him thru our music. We are available to serve Him thru your church , with concert`s ,festivals or benefit programs.
Download the New

FREE

EBOOK!!! 25 Reasons to Believe
In conjunction with Business Men In Christ and our Tuesday Morning Men's Bible study we have written a booklet that helps all people, especially teens and young adults, to understand, defend, and share their faith. The 30 page booklet is FREE TO ALL. Pray for it to traverse the world. We are asking that people download a copy then either forward it to everyone you know and post a link to it everywhere you can all to the glory of God!! There is no authors name on the outside of the book. It can also be used as a help for parents who are struggling with telling the children about God. May the Lord bless this apologetical work to His glory!!
Bible Studies and Worship!
Tuesday Morning Men's Bible Study 6:15 am –
All Men Welcome!

WALKING IN THE DESERT WITH GOD
by RAY VANDER LAAN
Are you going through a difficult period of life? The loss of a loved one? Unemployment? A crisis of faith? During these desert times, it's easy to think God has disappeared. In Walking with God in the Desert you'll discover that it's only when we are totally dependent on him that we find God is closer than ever and can experience his amazing grace and provision.
Filmed on location in Israel, Faith Lessons is a unique video series that brings God's Word to life with astounding relevance. By weaving together the Bible's fascinating historical, cultural, religious, and geographical contexts, teacher and historian Ray Vander Laan reveals unique insights into the Scriptures' significance for modern believers.
Watch Session One Below:
Ladies Bible Study every Tuesday Morning!
Join Joyce Mancke and a host of ladies for "Angels" By David Jeremiah Tuesday Mornings at 10:30 am! People have long been fascinated by stories of angel sightings, yet many contemporary beliefs about angels are based on misconception and myth. In Angels, Dr. David Jeremiah uses Scripture to unveil the remarkable truth about these agents of heaven and their role and work in our world. Dr. Jeremiah's book will capture the attention of readers of all ages who seek a broad and thorough survey of Scripture that clearly separates fact from fiction as it relates to angels. Answers these questions: What are angels? What is their role in God's plan? Are they present? Do they appear? Do they give us personal insight? All ladies of all ages are welcome to attend. For more information contact the church office at 217-523-7731
Bible Studies: Fresh Start Discipleship
Sundays at 6:30pm – The Sr. Pastor, Michael Henderson leads a class entitled "Fresh Start" for all believers. The class is geared toward growth "In Christ" and is ideal for those who would like a refresher in the foundational Biblical Studies found in Scripture. The is is a must class for all who desire to draw closer to God and understand Him on a deeper level.

Gospel Sing every third Friday! Free Meal 5:45 pm with singing at 7:00 pm
Beginning with a meal at 5:45 pm with a meal singers from as far south as Edinburg and as far north as Atterberry will be gathering every 3rd Friday of the month with their musical talent to sing for the glory of God! It will be a fun night as well as a worshipful one with song and testimony as we all come together to sing out to the Lord in uplifted praise! The event is free to the public. All you have to do is show up! See you there!
Saturday Evening Worship, Concerts, & Films , Saturdays at 7:00 pm!
Saturday 7:00 pm weekly Worship and fellowship. Working on Sunday mornings? No problem. There is plenty of opportunity to lift praises to God in song and testimony on Saturday nights! We are inviting you to come, share, and join in in celebrating what our AWESOME GOD is doing in our lives. The Bible tells us we are not to forsake the assembling of ourselves together, (see Heb. 10:25). Please make every opportunity to attend. Sometimes we have a concert, other times a movie, but we always are doing something to lift up the name of Jesus. Many in the community have said they cannot come on Sunday Mornings so this is your opportunity to Worship the King during the evening. We are here to serve the Lord and in doing that serve you! Remember John 3:16, For God so loved the world that He gave His only begotten Son, that whosoever believes in Him may have eternal life! Find new life in Christ at FBC!